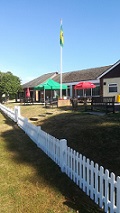 ICC U19 World Cup
On the 1st & 6th August 2018, St. Margaretsbury were proud to host 3 rounds of the Europe Division 2 Qualifying section of the above Competition.
We hosted:
The Netherlands v Denmark
Belgium v Norway
Denmark v Spain
Official ICC highlights of two of these games can be found here:-
The Netherlands v Denmark
Belgium v Norway
The Netherlands and Denmark (along with France) qualified for the next stage of the competition
See photos of the event
here
Upcoming Events
Wed 24th April Seniors Training (at The Bury) 6.00pm
Sat 27th April Pre-season Friendlies v Broxbourne
Sat 4th May Pre-season Friendlies v Redbourne & Watton at Stone
Sat 11th May Pizza Night
In the Clubhouse
Sat 11th May League Season starts
Sat 18th May Cocktail Night
In the Clubhouse
Sat 1st June Curry Night
Sat 29th June Race Night
Sun 21st July Big Bash
Latest 100 Club Winners

£100 Janet Craig
To Join the 100 Club - Click Here
St. Margaretsbury Cricket Club was formed in 1737 under the name Stanstead Abbotts Cricket Club. To learn more about the history of the club click on the About The Club page.
The club is affiliated to the
Hertfordshire County Cricket Association
, the Club Cricket Conference and are members of the
Saracens Hertfordshire Cricket League
Playing out of the small village of Stanstead Abbotts, the club is always looking for new members and welcomes you to browse through our site.
The club fields 3 senior XI's on a Saturday which all compete in the Saracens Hertfordshire Premier Cricket League. On Sunday's there is 1 senior XI for both friendly and competition matches and an Academy XI that competes in friendly matches. The club also has a highly successful Junior section, which fields teams at U10, U11, U12, U13, U16 and U17 age groups in the Ashurst Hertfordshire Junior Leagues.
In 2005, the club was awarded Clubmark by the England and Wales Cricket Board, which means that we are recognised for our commitment to the development of young cricketers within the local community. In 2008 & 2012, the club was re-accredited with Clubmark, highlighting its continued commitment to developing and safeguarding young players.
Why not pop in and see us at the recreation ground. Address details can be found via the contacts page.
Forthcoming Fixtures
Saturday 27th April
1st XI
Friendly
Broxbourne
v
St.Margaretsbury
2nd XI
Friendly
St.Margaretsbury
v
Broxbourne
Saturday 4th May
1st XI
Friendly
Redbourne
v
St.Margaretsbury
2nd XI
Friendly
St.Margaretsbury
v
Watton at Stone