Promotion Quiz
On the 6th Sept. the Tilbury brothers guided the team to a 10wkt victory to ensure promotion from Div 2.
Use your skill and judgement to work out which of the wagon wheels below belongs to which brother ?.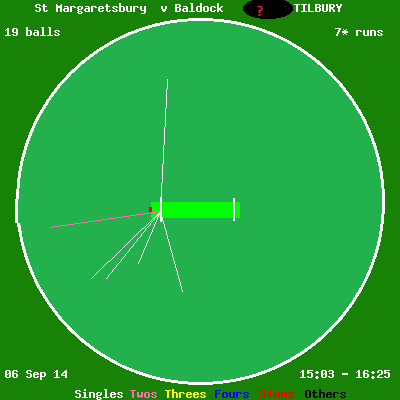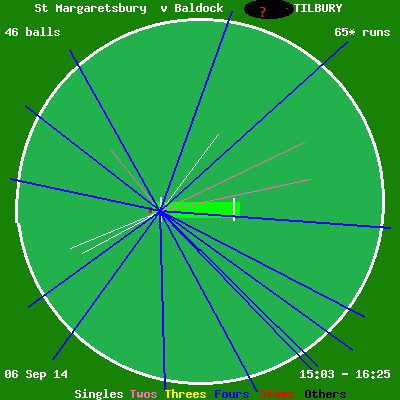 Send your answers to:- there_are_no_prizes_for_guessing_this @ stmcc.org.uk
The club is affiliated to the Hertfordshire County Cricket Association, the Club Cricket Conference and are members of the
Saracens Hertfordshire Cricket League
Playing out of the small Hertfordshire village of Stanstead Abbotts, St.Margaretsbury cricket club welcomes all new members and welcomes you to browse through our site.
The Club was formed in 1737 under the name Stanstead Abbotts cricket club. To learn more about the history of the club click on the ABOUT US page.
The club fields 3 senior XI's on a Saturday which now all compete in the Hertfordshire Cricket League.On Sunday's there is 1 senior XI for both friendly and competition matches and an Academy XI that competes in friendly matches. The club also has a highly successful Young Cricketers section, which fields teams at U9, U10, U11, U12, U13, U15 and U16 age groups in the Hertfordshire youth leagues.
In 2005, The club was awarded Sport England's Clubmark by the England and Wales Cricket Board and was also identified a one of Hertfordshire's FOCUS CLUB's, which means that we are recognised for our commitment to the development of young cricketers within the local community. In 2008, the club was re-accredited with Clubmark, highlighting its continued commitment to developing and safeguarding young players.
The club also competes in many local competitions which involves matches at the ground during the week and weekends. Why not pop in and see us at the recreation ground. Address details can be found via the contacts page.
St.Margaretsbury Cricket Club
The Recreation Ground
Stanstead Abbotts
Hertfordshire
SG12 8EH